In writing this I have mostly drawn upon Sidhu's First Anglo Sikh War and I have applied the information therein to the ratings in Piquet's Field of Battle (FOB). I hope it is of use to those interested and obviously if you disagree with my ratings change them to suit yourself.
Let's take the infantry first. They are the backbone of the army, well trained, often by French Napoleonic veterans, and fully equipped to the best European standard. Apart from the British there was nothing like them in India.
Following the death of Maharajah Ranjit Singh, creator of the Khalsa, some commentators feel the disciple of the infantry broke down effecting their battle worthiness. I find no evidence of this in the first Anglo Sikh war. That said I'm mindful of making the Khalsa over mighty in game terms and therefore have opted for a crack brigade and a regular one both of three battalions.
To this we can add a battalion of Sikh Ghurkhas, one of Dogra Light Infantry and some Alkali devotees of God the Immortal. The Ghurkhas and the Dogra are regulars. The Alkali are a sort of Sikh version of the Knights of the Temple. I have given them only short range fire power to reflect a mix of matchlocks, pistols and quoits but if they close they will be formidable.
Now, to consider the artillery. The Khalsa often used very heavy calibre guns and the Muslim gunners were very skilled indeed. Consequently, I've rated the gunners as crack and the guns as heavy. The Khalsa also had horse artillery and I've included the ratings for them too. Irregular artillery could also appear but I don't yet own any and so have not listed it. I currently field three batteries of Khalsa guns.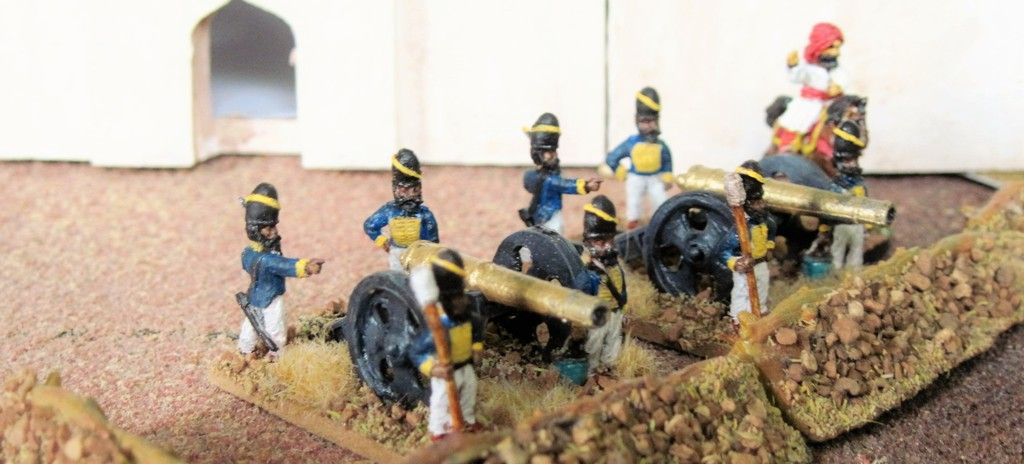 In part two we will look at the regular cavalry, the Gorchurra and Sikh irregulars including camel guns and at the command issue.